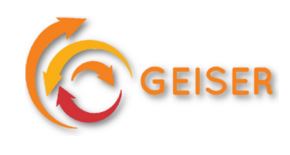 The AKSW group is the technical lead of the recently started GEISER (from sensor data towards internet-based geospatial services) project funded by the Federal Ministry for Economic Affairs and Energy (BMWi) under grant agreement number 01MD16014E. The GEISER project will run from March 1st, 2016 to February 28th, 2019.
Many applications of cyberphysical systems rely on an integration of geospatial data and sensor data. In the engineering industry, dynamic mission planning of service technicians and locating suppliers can benefit from such integrated data. Other potential applications include intelligent parking and refueling by finding available parking spots and fuel pumps or charging spots nearby. Sensors of satellite navigation systems in cars and intelligent fuel pumps, connected charging points and industrial machinery generate terabytes of industry-relevant data every day. Combining many data sources is the most promising approach, but this is difficult. Relevant geospatial data is distributed among structured (e.g., sensors), semi-structured (e.g., OpenStreetMap) and unstructured (e.g., Twitter) data sources. Due to the significant volume and variety of data sources, innovative solutions are required for the acquisition of geospatial data, integrating them with sensor data and building intelligent services on top.
The GEISER project aims to design and implement innovative functionality for developing services for transforming, storing, integrating and processing geospatial and sensor data.Here, machine learning approaches will be applied for tasks such as computing topological relations between resources and time-efficient generation of link specifications. The resulting tools will be integrated as microservices in an open cloud-based platform. The AKSW group of Universität Leipzig particularly works on the extraction and integration of geospatial data. We will develop and evaluate scalable methods for analysing, extracting and fusing RDF from various data sources.
Our partners in this project are USU Software AG (Coordinator), Yellow Map, metaphacts GmbH, Frauenhofer IAIS and TomTom.
The project kick-off meeting will take place March, 14th in Karlsruhe at the office of USU Software AG, so stay tuned for futher project updates and follow us on aksw-blog for the latest news.
The project is funded by: