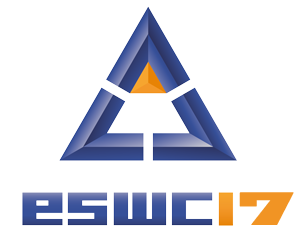 Hello Community! The ESWC 2017 just ended and we give a short report of the course at the conference, especially regarding the AKSW-Group.
Our members Dr. Muhammad Saleem, Dr. Mohamed Ahmed Sherif, Claus Stadler, Michael Röder, Prof. Dr. Jens Lehmann and Edgard Marx participated at the conference. They held a number of presentations, workshops and tutorials:
Michael Röder
Mohamed Ahmed Sherif
Muhammad Saleem
Edgard Marx
Presented a Workshop paper "Exploring the Evolution and Provenance of Git Versioned RDF Data" by Natanael Arndt, Patrick Naumann and Edgard Marx
Presented a demo paper "Kbox – Distributing ready-to-query RDF Knowledge Graphs" by Edgard Marx, Tommaso Soru, Ciro Baron Neto and Sandro Coelho
Claus Stadler
Presented a Workshop paper in QuWeDa "JPA Criteria Queries over RDF Data" by Claus Stadler, Jens Lehmann
The final versions of the papers from Edgard and Claus will be made available soon.
As every year the ESWC also awarded the best papers and studies in several categories. The award for Best Challenge Paper went to: "End-to-end Representation Learning for Question Answering with Weak Supervision" by Daniil Sorokin and Iryna Gurevych. The paper is part of the HOBBIT project by AKSW. Congrats to the winners!
Have a look at all the winners at ESWC 2017: http://2017.eswc-conferences.org/awards.